The Business School Pforzheim offers a total of eleven Master's programs, including two MBA programs and a modular, part-time continuing education program. Every year, around 160 students complete their Master's degree at the Business School Pforzheim and start their professional careers with excellent career prospects.
In January and April of each year, we present our Master's degree programs during an online information evening.
Prospective students have the opportunity to learn about the framework conditions for a Master's or MBA program at the Business School, to find out about their desired degree programs, to meet the Master's program directors in person and to talk to current students. In addition, the university is usually represented by professors and Student Ambassadors at the Master & More fair in Stuttgart.
The dates for the annual Master Info Evening and for fairs are published on this page and on the homepage of Pforzheim University. If you send us a short message to master(at)hs-pforzheim(dot)de, we will also be happy to inform you personally as soon as the dates are fixed.
Structure of the study programs
All Master's programs are postgraduate programs and are oriented towards a clear profile of professional functions. They convince through their practical orientation, the imparting of application-oriented knowledge, internationality and the involvement of renowned companies. The standard period of study for most Master's programs is three semesters. The start of studies and application deadlines vary depending on the orientation of the programs.
Information on the contents, the course of studies, application, admission and other questions specific to the degree programs can be found on the pages of the respective degree programs. If you have further questions, please contact us. The program directors and academic staff look forward to receiving your application.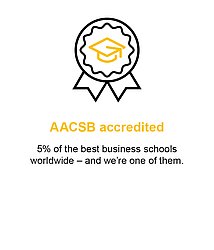 Application deadlines and start of studies at a glance
| Degree program | Degree | Beginning semester | Notes | Application deadlines |
| --- | --- | --- | --- | --- |
| Controlling, Finance and Accounting | M. A. (Option Double Degree) | Winter semester | limited: Admissions interview | June 15 |
| Corporate Communication Management | M.Sc. | Winter semester | limited: Admissions interview | June 15 |
| Creative Communication and Brand Management | M. A. | Winter semester | limited: Admissions interview | June 15 |
| Human Resources Management | M. Sc. | Winter semester | limited: Admissions interview | June 15 |
| Information Systems | M. Sc. | Winter semester | limited: Admissions interview | June 15 |
| Life Cycle & Sustainability | M. Sc. | Winter semester | limited: Admissions interview | June 15 |
| Marketing Intelligence | M. Sc. | Winter semester | limited | June 15 |
| MBA International Management | MBA (Option Double Degree) | Winter- and Summer semester | limited: Admissions interview, English program | deadlines |
| Management (parallel with employment) | MBA | Winter semester | limited | July 31 (if places are still available, also up to 14 days before the start of program, at the latest) |
| Strategic Innovation Management (parallel with employment, module-based) | M. A. | Winter- and Summer semester | | January 31 and July 31 |
| Taxation, Auditing, and Law | LL.M. | Summer semester | limited: Admissions interview | January 15 |
CLOSE