Nombre: Eduardo Rodríguez
Nacionalidad: Mexicana
Posición: Sales Controlling en Häfele
Generación del 2017
El MBA de la Universidad de Pforzheim fue la mejor decisión que pude haber tomado para impulsar mi carrera laboral;me permitió conocer otras industrias y aceleró mi desarrollo tanto en lo académico como en lo personal.
Pude convivir con gente de todo el mundo, visitar empresas, expandir mi red de contactos profesionales y hasta mejorar mi alemán.
Lo que hace tan especial a este programa es el enfoque dado a cada uno de los alumnos debido al tamaño reducido de los grupos y la estrecha relación entre la Universidad y las empresas regionales con alcance mundial.
Esta fórmula facilita enormemente la transición entre el MBA y tu primer trabajo al graduarte.    
Si te interesa saber más sobre el programa no dudes en contactarme. ¡Hasta pronto!"

Nome: Eduardo Rodríguez
Nacionalidade: Mexicana
Cargo: Sales Controlling na Häfele
Geração 2017
O MBA na Universidade de Pforzheim foi a melhor decisão que eu poderia ter tomado para avançar na minha carreira. Conheci mais sobre outros setores da indústria e acelerei meu desenvolvimento tanto acadêmico quanto pessoal.
Consegui conviver com pessoas do mundo inteiro, visitar empresas, expandir a minha rede de contatos profissionais e até melhorar meu alemão.
O que torna este programa tão especial é o foco dado a cada aluno devido ao tamanho reduzido dos grupos e à estreita relação entre a Universidade e empresas regionais de alcance global.
Este formato facilita muito a transição entre o MBA e o seu primeiro emprego ao se formar.    
Se você está interessado em saber mais sobre o programa, entre em contato comigo. Até breve!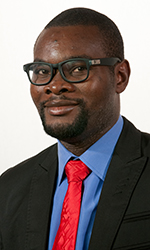 Name: Nnamdi Onyenuforo
Nationality: Nigeria
Position: Sales and Business development associate at MAHLE Aftermarket GmbH
MBA Class of 2016
"The MBA was and is indeed a practical and  international program, as we had 11 different cultures present. This gave me the chance to learn other cultures as we worked together as a team to solve real life practical case studies and researched on several aspects of the economy and how it relates to the business world. The program trains you on how to do an in depth analysis and being thorough with the ever changing business environment. It also gives you the chance to network amongst companies as lots of company visits are organized and also top executives in companies are being invited to classroom to share their experience and challenges in the business world. Through networking, most of us got jobs almost immediately after graduation. It was really an interesting experience. Please feel free to contact me if need be."
Name: Claudia Gabriela Leyva Flores
Nationality: Mexican
Position: Digital Marketing Manager at SAP
MBA class of 2016
"Choosing the Pforzheim MBA Program is definitely a good choice if you want to boost your career. The academic quality of the program is supported by its accreditations and a big plus is the cooperation with Universities around the world, which gave me the great opportunity to study one semester in France.
Please do not hesitate to contact me. Hope to meet you here in Pforzheim!"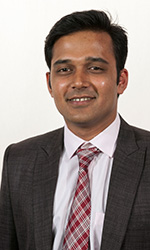 Name: Paritosh Sharma
Nationality: Indian
Position: Product Manager IoT/Innovation at Bosch Power Tools
MBA class of 2016
"Close connections with the companies and a well-knit alumni network helped me getting better insights into various career development opportunities in the German market. The practical approach to studies and learning has imbibed a managerial approach with a strong theoretical reasoning, which now feels natural to me when I use them at work. The professors are readily available to help even after graduation. Alumni network and company contacts helped me find the right jobs and internships. The international environment and the intercultural values that the MBA offers changed the way I look at the world now. Coming from an engineering background, my transaction into the business world felt very natural because of the guidance, support and exposure I got from my MBA at Pforzheim University. It would be my pleasure to answer any of your queries."
Name: Denise Joanna Tan
Nationality: Phillipinean
Position: Manager and Co-Founder of Jiujitsu Manila
MBA class of 2016
"Pforzheim MBA program builds its strong reputation on its quality of education complemented by the University's cooperation with renowned German companies. Apart from its focus on sustainability and innovation, the uniqueness lies in the highly effective learning environment of internationally diverse students.
If you are interested to be part of the next MBA batch and have some questions regarding the program, please don't hesitate to contact me."
Name: Ioana Olaru
Nationality: Romanian
Position: Business Analyst at Management Business Group
MBA class of 2016
"Groupwork with colleagues from more than 14 countries and classes on highly relevant topics have made the Pforzheim MBA a great platform for strengthening my leadership capabilities and expanding my business knowledge. Plus, living in Germany helps me improve my German.
I am looking forward to respond to your queries about the program."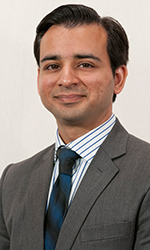 Name: Asad Malik
Nationality: Pakistan
Position:Global Marketing Manager at Nexperia
MBA Class of 2015
A truly holistic learning experience that assists it's recipients in developing integral tools to compete in the global corporate world of today. Primarily I feel that the presence of a very international atmosphere contributed to by students, faculty as well as alumni of the program allows for a unique environment where constructive dialogue is encouraged. The extensive contact with professionals from various market leading global enterprises further enhances the diverse course offerings and facilitate the ambitions of the student body through mentoring and project partnerships.    
Name: Sally Ghaly 
Nationality: Canadian
Position: Senior Manager - Creative Planning + Production at PUMA
MBA class of 2014
"The company visit and guest lecture, organized by the MBA program, led to an opportunity to intern and write my Master Thesis with PUMA. Working for and studying the multinational company has been an invaluable experience."
Name: David Cikurel 
Nationality: Turkish
Position: Project Manager at DHL Consulting
MBA class of 2014
"The consulting project with Siemens where we as a team managed the project as well as the main Siemens stakeholder, well structured international management curriculum taught in small classes of diverse students, who brought an array of perspectives into the topics, and one-to-one interaction with the professors who have successful business as well as academic careers in their fields all prepared me well to progressing my career in management consulting. The program also very well supplemented my quantitative skill set, acquired during my bachelor of engineering studies at Cornell and work experience in the finance industry, with core "soft skills". Feel free to reach out to me for questions on the program!"
Name: Kerstin Keteci
Nationality: German
Position: Project Manager Corporate Marketing at Bosch
MBA class of 2011
"I studied tourism and business administration at FH Worms in Germany. Then, I worked as event and trade fair manager at Robert Bosch GmbH. After that, while studying in the MBA program at HS Pforzheim I spent one semester at the University of South Carolina in the US . Furthermore, I did an internship in product management and strategic marketing at Bosch. Now, after my MBA, I'm working as Project Manager in strategic marketing at Bosch, division Diesel Systems."
Name: Andrei Moroc
Nationality: Romanian
Position: Shipping Origination Manager for Berenberg Bank
MBA class of 2011
"Before joining the MBA program I was a research analyst at a global business and investment research firm, working in the Romanian and Indian office. After completing two internships in Munich and Frankfurt and writing my Master thesis with Allianz Global Investors, I started working as a project manager at Ship Finance Hammonia Reederei in Hamburg. Please feel free to contact me in case of any questions."