OUR JOURNEY TO ACCREDITATION
Based on a recommendation of the university council, the university applied for the membership at the AACSB in 2006. In January 2007, the university was admitted to the accreditation process.
With the help of an AACSB Mentor the university created an accreditation plan. Upon approval by the AACSB Committees the implementation process of said plan began.
The successful execution of the accreditation plan marked the final phase of the initial accreditation. The peer review team, consisting of deans of already accredited institutions, prepared by reading a comprehensive self-evaluation report prior to their visit on site.
The outcome of the visit was the successful accreditation of the university in the summer of 2011.
Every five years, the university has to prove itself in a standardized, shortened process of the re-accreditation in order to maintain the seal of quality.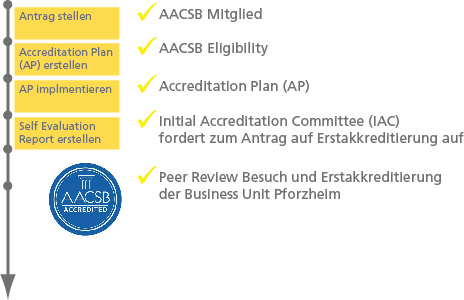 "As an entrepreneur and honorary senator I have been closely associated with the university for many years, and it is gives me great pleasure that the AACSB, the world's most renowned accreditation organization for business programs, has confirmed that Pforzheim University is on the right track and has certified its outstanding work. This award will contribute to Pforzheim moving up on the wish list of highly motivated applicants for practice oriented degrees in business administration, industrial engineering or business law, and therefore will give our region stronger impulses."
Siegfried Weiser, Managing Partner at Laboratoire Biosthetique Kosmetik GmbH & Co., Pforzheim, Honorary Senator of Pforzheim University