Welcome to our International Master Exchange Program (IMEP)!
IMEP
tp master program students from our partner universities, staying for one semester on exchange as well as to domestic full time master students of our business school
 
starts every fall/winter - please see detailed program dates here.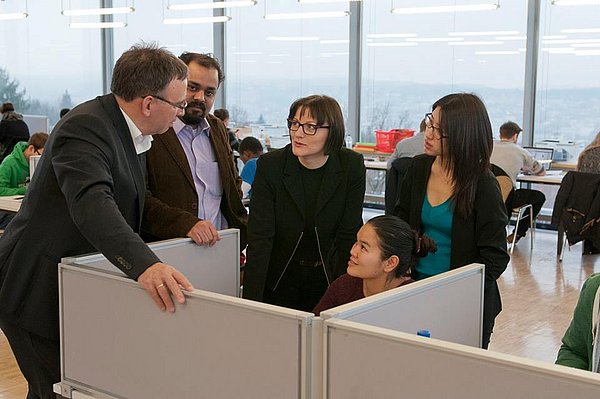 "The International Master Exchange Program has expanded my horizons and it was a great way of getting personal and professional growth. The staff at the Business School's International Department is absolutely welcoming and helpful and the professors are top level, providing uplifting lectures.
The University is multicultural, giving you the opportunity to meet people from all over the world. Also the region is great for travelling, with many possibilities and places to explore around. Studying one semester at Pforzheim University's Business School was one of the most valuable life experiences to date. I am grateful for this opportunity!"
Júlia, Brazil
"Studying at Pforzheim University's Business School, located in Germany's most innovative region, was a great opportunity for me to gain useful knowledge from experienced professors. I gladly attended lectures which were very practice oriented.
I also worked on projects with students from around the world, including MBA program participants. In Pforzheim I found many friends and I improved my English and German language skills, I also participated in trips organized by the university. The International Master Exchange Program is a very attractive offer and now an important point in my CV!"
Adrian, Poland
"This exchange meant to me freedom, independence and opportunity. Opportunity to try new experiences, see new places, enter in touch with new cultures and… freedom to follow my aspirations. This is what the Pforzheim University's Business School helped me to achieve. The program offers a huge range of interesting classes and I always felt supported thanks to the availability Business School's staff, taking care of the international students.
Because of this wonderful educational environment, which in addition offers courses in German as a foreign language, to join associations, organized trips and sport programs, I could enrich my experience and enter deeply into the German culture.
Choosing a semester abroad in Pforzheim, was one of the most important and formative experience of my life."
"I had a great time while spending a semester at Pforzheim University. The International Master Exchange Program exposed me to a great quality study program in Germany. The program offers a variety of business and management classes offered in English. The professors delivered very practice oriented courses based on experience of working in both international and national environment. Professors and non-teaching staff have always been able to answer my questions related to the class and other academic activities. IMEP also offered several field trips to educate international students about the Europe's current economic situation which is really interesting."