Good reasons to choose Pforzheim University's International Master Exchange Program for your study abroad semester
Enjoy high quality education.
Our commitment to quality and continuous improvement was confirmed when we received the initial accreditation of AACSB International in July 2011. Less than 5% of business schools worldwide have earned this distinguished hallmark of excellence in management education. In Germany only 9 universities out of about 200 with business programs are AACSB accredited.
Studying at a top ranked university.
The excellent educational standards and methods, good study amenities and our focus on the job market have been ver y successful. This has been repeatedly demonstrated through various rankings and ratings e.g. 2020: "Global Top 30 per former" in the category "Applied Knowledge Partnerships", European Ranking Multi­U (European Commission) | 2019: Amongst the country's best three for twelve consecutive years in the "Wirtschaftswoche", Germany's leading business magazine; "Global Top 25 Universities worldwide" in "International Orientation of Programs", U­Multirank | 2018: Top group in the "CHE University Ranking" | 2017: "Hidden gem" in the European Commission's Ranking on "Applied Knowledge Partnerships".
Get business insight.
As a university with an applied mandate, we deliver business competence, not just theory. Our professors do not only hold Doctoral, or Master degrees - they have worked for at least three years in industry. Our teaching is based on research as well as on professional experience.
International diversity.
As we are welcoming 200 to 250 incoming exchange students from all continents every year you'll enjoy a real international experience.
Get a European insight and profit from our Jean Monnet Chair.
The Pforzheim University's Jean Monnet Chair is an integral part of the IMEP providing lectures such as "Challenges and Perspectives of the European Union" and "European Financial Markets". Pforzheim University holds the only Jean Monnet Chair for European Economic Integration in our state of Baden-Württemberg. Jean Monnet Chairs are teaching posts with a specialization in European integration receiving additional funding by the European Union.
Start to learn German as a foreign language - for free!
Our Institute of Foreign Languages offers a beginner program starting in early September aimed at level A2 to be achieved by Christmas. This program will be free of charge for you.
Get integrated into our local student community.
The majority of the courses you will have access to, are part of our master degree programs. Therefore, you will meet our domestic students right in the classroom. In addition our student initiative "Gemini" offers a buddy program, which will further connect you with German students.
Studying in one of the most innovative regions in the heart of Europe.
Pforzheim is located between the cities of Stuttgart and Karlsruhe in the state of Baden- Württemberg, Germany. Baden-Württemberg is one of Europe's most innovative and globalized regions. Many internationally renowned companies such as Daimler, Porsche, Bosch, SAP as well as powerful small and medium-sized enterprises have their headquarters in this southern German region. Interesting destinations for weekend trips are famous cities such as Heidelberg, Munich, Freiburg and Zurich. Paris, Vienna and Milan are further popular travel destinations of our exchange students. Pforzheim is also an excellent starting point for trips to the beautiful and varied landscape of the Black Forest with a multitude of leisure activities.
Fit to international semester schedules.
Our International Master Exchange Program is offered from September to Christmas and subsequently fits to the international semester periods. www.hs-pforzheim.de/imep/calendar
Elena, Italy
"My experience as a master student at Pforzheim University was amazing, and I will explain why:
The Business School offers a lot of master courses, so I didn't have any problems to find the courses fitting to my master program at my home university.  The quality of the courses is excellent and the relative small class sizes allow to have active participation with your peers and your professors. The school has a practical approach, you will analyze a lot of practical cases in your courses, and you will have also the possibility to do an internship in Germany.
The Business School's International Department was my second home, with an incredible team that replies and helps me with any doubts or questions.
You will meet a lot of students from all over the world, so you will enter in a real international environment. And you'll find a lot of marvelous student initiatives, organizing incredible events.  You will have also the possibility to enter one of them, as I did, I should say thank you to Commeo.
I can say that the period I spent in Pforzheim was one of the best in my life!"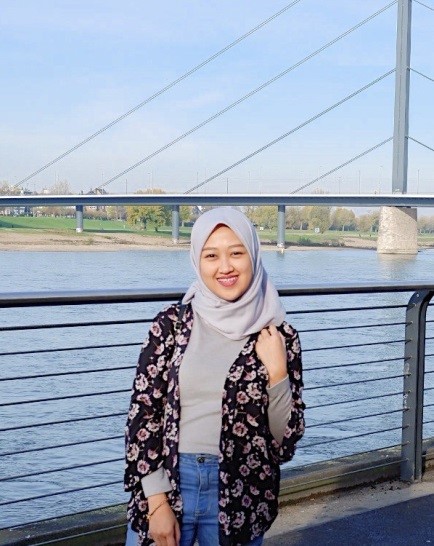 Firda, Indonesia
"Studying abroad at Pforzheim University was absolutely a remarkable experience in my life! The student life, professors, staff and the courses provided me with the overseas experience I was looking for. The IMEP program offers diverse courses and I was able to specialize in the subjects that interested me the most. Thus, this program has been very favorable and flexible with the needs of international students"